Recent Activities

The following are some of our recent activities beginning from the top of the list. Please feel free to browse through each section and to share with others.

*some dates may not be exact
_________________________________________________
-Sermon presented at Lake Wales SDA Church
(11/5/16) Brother Edwin was invited to present on Sabbath morning at the Lake Wales Seventh day Adventist Church (www.sdalakewales.com). His sermon was entittled "Who Among Us Shall Dwell Among Devouring Fire?" You may view the sermon online on YouTube by clicking on the following link: https://youtu.be/xXoyFMu0lug
-
Sermons Walk Through the Sanctuary, Atheism vs. God and Charmed by Music
(8/2/16) Edwin presented these three sermons at the Haines City Hispanic SDA church, Florida. Many souls were blessed by the grace of God. Although he spoke in English, many of the Hispanic members were able to understand, along with the English speaking youth which were his main target.
-
Presenting the Health Message at Haines City Seventh Day Adventist Church
(6/5/16) With Edwin as his translator, Brother Damien presented a powerful Health Message to this congregation. Lay Pastor Fermin Acosta and his wife are eager to invite him back. Many souls were blessed, and after the departure a small vegan cooking ministry was started here among some of the female members eager to learn and teach how to cook healthy meals for the glory of God. Thank God for the Holy Spirit who has worked in their hearts to make positive changes for the Lord!
-
Presenting the Health Message at Camden, New Jersey
We were invited to share a message on health at the
Mount Olivet Seventh Day Adventist
Church in Camden, New Jersey. Pastor Frank E. Leggette III invited us to speak to his 300 plus congregation on Sabbath afternoon just before the A.Y. program. Minister Damien T. Jenkins presented his sermon entitled "The Health Message" which included a power-point presentation and a question and answer period at the end. The congregation was blessed and the Pastor is interested in inviting us back for a future event. Please pray for this church as it continues to grow in Christ and learn more present truth through their leader Pastor Leggette.
_________________________________________________
-
Invited to speak in Bronx, New York
Elder Steven Negron invited Edwin M. Cotto of Our Higher Calling Ministry to speak at
Bedford Park Seventh Day Adventist Church
in Bronx New York. This church just opened up a Youth Church in its basement and we were invited to be the first speakers on the opening Sabbath of this church. Edwin M. Cotto gave a sermon titled
The Restoration of his Image
, one he also shared at
Miracle Meadows School
.
The congregation was blessed and Elder Negron promises to invite us back to share more of our experiences and sermons at this newly constructed church. Please pray for this churches mission as they seek to get more and more young people involved in the work of the Lord.
Elder Steven Negron has two websites where he shares his experience as a minister and his testimony of how he went from a street thug with a vision of one day becoming a Hip-Hop artist to a Christian with a vision to share with the world what Jesus Christ has done for him. A photo of his past as a Hip-Hop artist came out in the book
Born in the Bronx by Joe Conzo
, which he shares with other young people in an effort to show them the dangers of rap music.
_________________________________________________
-
Week of Prayer at Miracle Meadows in West Virginia
We just returned from
Miracle Meadows School
once again. The last time we were there, we held a weekend seminar on "righteousness by faith," and as a result of the workings of the Holy Spirit, many of these children have given their lives over to Jesus Christ. Our most recent theme was called "Thy Way, O God, is in the sanctuary." Many children were released of their earthly baggage through Jesus Christ and have accepted him into their lives as their personal savior by responding to the alter calls. Click on the video below to watch some footage of our trip there:
direct link: https://youtu.be/En56Ka0LN-4
_________________________________________________
-
Sharing our testimonies at 3ABN
We were invited to appear on
3ABN
's #1 show Celebrating Life in Recovery. The host is Cheri Peters, and she was interested in sharing our testimonies on her show. We will keep you updated on the time when it will appear on 3abn. Visit Cheri Peters website by clicking on the image below: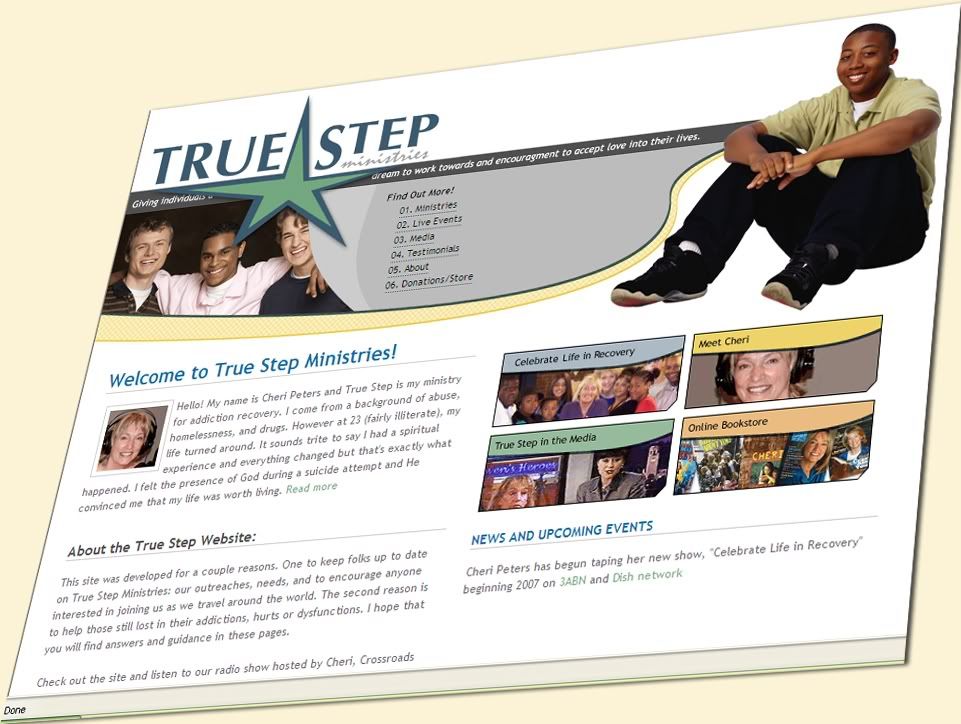 _________________________________________________